Hydrogen is an enthusiastic team of creative minds, offering you a one-stop solution to all of your company's design and marketing requirements.
We're a 'full service' or 'integrated' agency, which means we do branding, advertising, digital design, marketing, direct marketing and graphic design. Aside from our design expertise, our strengths lie in creating strategic partnerships that help our clients to communicate, engage with their audience, and grow.
Browse our website to see a selection of work we've produced for our clients. If you have any questions, or would like to discuss working with us, contact us by any of the means found on this site.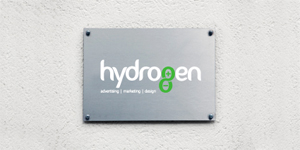 Our new East Anglia office is now up and running in Lavenham, Suffolk.
With our brand new machines, it's the perfect base for us to service our clients from East Anglia, London and further afield.
Feel free to visit us, we're currently finshing off our downstairs break-out / relaxation / coffee bar area, for our presentations and meetings.

We're always looking for fresh creative talent!
If you're interested in working for us, please click the link below to send us your CV, along with a PDF sample of your 3 best pieces of work.

Norse Commercial Services
Bespoke pitch video for Norse Commercial Services, forming part of their submission for a high-value local authority Building Maintenance contract.

| Click the video above to play |

Jemca Toyota
January Sale emailer informing both new and potential customers of the new year's deals available. Click below for more detail, and to view other similar projects.

Wellwise International
Logo and website design, updating old identity and creating new corporate website. Click below for more detail, and to view other similar projects.

ATV CIty
A dealer locator section for the ATV City website, enabling clients to find their nearest sockist of ATV City parts, with the facility to display dealer adverts and listings.

Norse Grounds Division
A new website for the Norse Grounds DIvision, positioning them as a major rival for their competitors. Click below to view other similar projects.